Barcelona's decision to play against Las Palmas could have a long-term impact, says Sky Sports Spanish football expert Guillem Balague, on what he describes as a 'day of shame' in Spain.
For a country that has known more than enough about internal conflict, October 1, 2017 will forever be a date etched in Spain's Hall of Shame, a date from which hardly anyone emerges from with any credit at all.
Spain, Spanish football and even Barcelona FC stand in the dock following their decision to play their league match against Las Palmas behind closed doors while the people of Barcelona faced rubber bullets and baton charges from Spain's security services.
Catalan officials claimed that at least 844 people were injured on Sunday due to the excessive force used by Spanish police, while Spain's foreign minister Alfonso Dastis has claimed police violence during Catalonia's illegal independence vote was "not extraordinary".
Now in the cold light of day the repercussions begin. Three directors of the Barcelona board have already resigned and a board meeting that is to take place imminently is expected to see more resignations.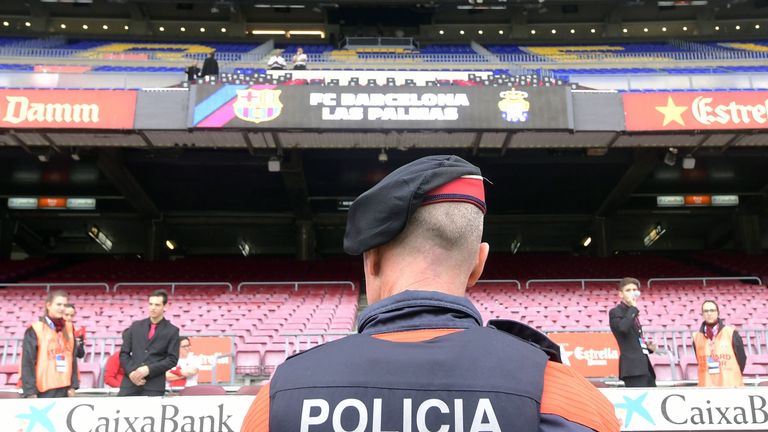 So how did we come to this?
Barcelona had wanted to postpone the game but had they unilaterally decided not to play it was an action that would have brought with it a six-point deduction and a heavy fine to pay as well.
The only way La Liga was prepared to accept a postponement was if the local police had issued a declaration that said the safety of the public could not be guaranteed. It never came.
What followed was a meeting with the players and management creating more divisions, more splits and the eventual decision that the best way to protest was to show an empty Nou Camp to the world. Cue resignations and discontent.
Gerard Pique - who has always defended the right of Catalonians to vote, without divulging his own position - cried yesterday as he tried to articulate his emotions after the game. He admitted that they agreed to play following the board decision but I am convinced he would have preferred not to play.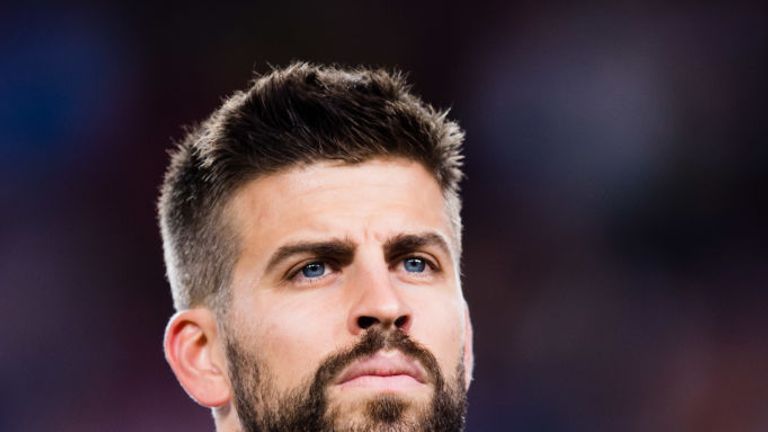 Playing behind closed doors was clearly not a unanimous decision and divided top players within the squad. What medium to long-term effects this might have on the club and its playing staff remains to be seen.
While we're on the subject, it's worth remembering that the calls for Pique to quit Spanish international football here and now have already began even though he has already announced that he will be retiring from La Roja at the end of the next World Cup. He has said that if he is not wanted, he is happy to move aside now.
Perhaps someone, somewhere can explain to me why Spanish fans should expect more patriotism from the likes of Pique than they did from Brazilians like Marcos Senna and Diego Costa, or the Argentines, Alfredo di Stefano and Juan Antonio Pizzi, all of whom played for Spain. Or Brazilian Rodrigo included in the squad for this week's games.
This was always going to be an extremely delicate and controversial political and social decision from just about every angle; exceptional circumstances, on an extraordinarily difficult day.
That said I find myself unable to understand just how Barcelona would not take the unilateral action to simply announce that the game would not be taking place. There are bigger things than a football game - more than 800 injured citizens following the excessive use of force of the Spanish police being one of them.
Personally, I am against Catalan independence, but very much pro-Referendum. Three weeks ago I did not feel the inclination to vote. This was not the referendum I was looking for, it felt imposed; an action carried out by a few, for the benefit of few. The reaction of the central government has made me wish I had done. Even to show my protest for the abuse of power exercised by Spanish security forces. And to defend the right to vote.
In the words of the English writer, Evelyn Beatrice Hall: "I disapprove of what you say, but I will defend to the death your right to say it"
On a regional level, the Catalan Federation cancelled all games throughout the region at lunchtime.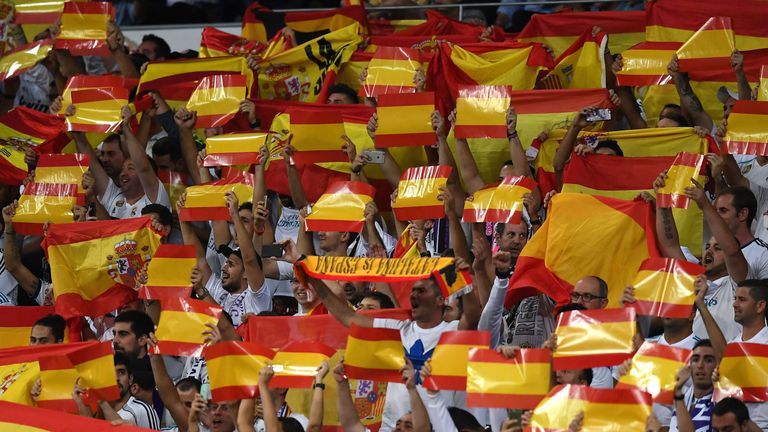 On two occasions the Spanish Federation stepped in to prevent Lleida from playing with the Catalan shirt. Meanwhile, La Liga permitted Las Palmas to place a Spanish flag on their shirts, a decision they defended by claiming that this showed to the public the 'unity of Spain'.
The sponsors of Las Palmas and most of their fans are against the decision of the chairman of the club Miguel Angel Ramirez to display the flag on the shirt. It was provocation, and it was political. In my eyes, it was the wrong decision.
Real Madrid fans also brought in a number of national flags to the Bernabeu on Sunday, and were asked to raise cardboard flags distributed by the club in the 12th minute. Fair enough, I do not have a problem with that, and I don't think anybody is making a big deal out of that.
But now, Spain is divided, and everybody will have to take sides.
- Guillem Balague